Since I first discovered that Sir Terry Pratchett shared a birthday with a family member (who is also a big fan), I think of the
beloved and belated author every year on April 28. Today, which would have been Sir Terry's seventy-fourth birthday, is the first official Terry Pratchett Day, which will be celebrated this year with new editions of his novels, beginning with six of his fabulous Discworld books, the ones in the "Witches" series plus one stand-alone. If  you have never experienced the joy and madness that is Discworld, these books are a great place to begin. Discworld often has connections to another wizarding world, although the Unseen University is probably less enticing than Hogwarts if one were choosing an institution of magical education.  Rincewind, Pratchett's endearingly failed "Wizzard," undoubtedly flunked his OWLS, but he is good value as entertainment!
Equal Rites, Wyrd Sisters, Witches Abroad, Lords and Ladies, Maskerade, and Carpe J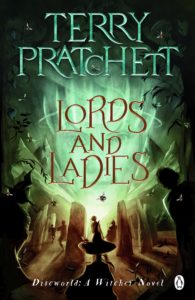 ugulum, along with Small Gods, are all getting splendid new covers, released today. This summer will see new-cover releases for the Wizards series, and, appropriately, on October 27 the Death series, WILL ALL BE RELEASED (I am rather partial to Pratchett's cat-loving fellow in the long black robe, capital letters and all). That group will include the wonderful Hogfather. Next year will see the release of the City Watch novels and several others. So, if you love Discworld and need an excuse to buy new editions, or if you want to share this wonderful series with someone else, this is a good time to gift yourself or a loved one in honor of Sir Terry on his birthday! If you are not yet a fan of the fantastic world that travels through space on the back of a turtle (really!), and you need a place to start, you can begin at the beginning with The Colour of Magic, but Discworld is the sort of place you can just drop into from anywhere, so I highly recommend the re-working of A Midsummer Night's Dream, Lords and Ladies, which is in the series being released today. Happy Terry Pratchett Day!