As book people, we here at Hogwarts Professor sometimes find ourselves at odds with the movie people when texts are adapted for the screen
. Casting is a frequent bone of contention, as we sometimes disagree with the way a film company plans to depict a character (although, unlike Anomie, we are strictly non-violent and limit our dissatisfaction to snarky comments). Yet, there are other times when a character is so perfectly cast as to align exactly with the image many of us had in our heads when reading the book. While good makeup and costuming can certainly transform an actor into a fitting vision of the character on the page, there is more to becoming a perfectly cast actor. Sometimes, something truly beautiful happens, and an actor truly embodies the literary character in a way that is nothing short of magical. Robbie Coltrane, who passed away October 14, was just such a brilliant fit. While he had an impressive career and garnered many awards, he is most widely known and beloved as Rubeus Hagrid in the Harry Potter film adaptations, and he will be sorely missed.
From the moment he appeared on the screen in Harry Potter and the Sorcerer's Stone, astride a flying motorbike, Coltrane embodied the larger-than life role of Hagrid, whether he was putting the Dursleys in their place, shepherding Harry around Diagon Alley
, playing mummy to a baby dragon, or sheepishly confessing, "I shouldna told ya that…" Coltrane was the perfect gentle giant for the next decade, right up to the time Hagrid carried Harry's limp body at the end of Deathly Hallows, the moment toward which Rowling has said she was writing from the beginning. That moment, mirroring Hagrid's first job in the series, the delivery of baby Harry to Privet Drive, is one of Rowling's triumphs on the page and Coltrane's on the screen.
Fellow cast members have poured out fond memories and condolences for Coltrane's family.
Rowling herself has tweeted a beautiful note, along with a lovely photo:
"I'll never know anyone remotely like Robbie again. He was an incredible talent, a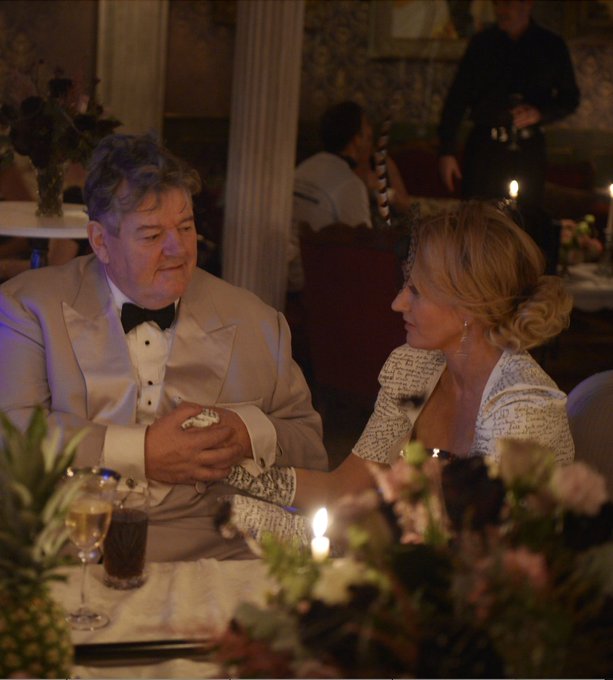 complete one off, and I was beyond fortunate to know him, work with him and laugh my head off with him. I send my love and deepest condolences to his family, above all his children."
In a strange bit of irony, in the anniversary special that aired some months ago, Coltrane spoke of the honor of knowing that children in the future will continue to enjoy his work in the films. His legacy is one that he already knew would outlive him with the films still being enjoyed decades from now: "I'll not be here, sadly, but Hagrid will." Sad, indeed.
Thankfully, we will still have Coltrane's Hagrid, with his perfect balance of massive size and massive heart, and, in the future when I hope to read the Hogwarts adventures to my grandchildren as I have to my children, it will be my imitation of Coltrane's voice that introduces Harry, and them, to the Wizarding World. After all, who else could say, "Yer a wizard, Harry?" Considering how magical Coltrane was as Hagrid, we may wonder if really was a wizard, too. A thumpin' good 'un.
To learn more about Coltrane and his career, here are a few articles about his life and work.
https://www.bbc.com/news/entertainment-arts-63261204
https://variety.com/2022/film/obituaries-people-news/robbie-coltrane-dead-hagrid-harry-potter-1235403870/
https://www.theguardian.com/culture/2022/oct/14/robbie-coltrane-cracker-harry-potter-dies-national-treasure