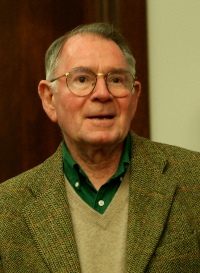 When C.S. Lewis died in Oxford in late November, 1963, there was very little international furor, because the man who invented Narnia had the great misfortune to pass from this earth within the same twenty-four-hour period that saw Lee Harvey Oswald assassinate President Kennedy in Dallas (Aldous Huxley also died that day, also with little fanfare). Ironically, yesterday, December 7, 2020, Walter Hooper, secretary to Lewis and editor of many of his works, passed through the Stable Door and into the real Narnia. And I almost didn't hear about it.
Late last night, I learned that one of mine and my father's heroes, the incomparable Gen. Chuck Yeager, left this earth for the last time yesterday.
Breaker of the sound barrier, war hero, aviation legend—Yeager has fascinated me most of my life. His Gl
amorous Glennis, the sexy orange aircraft in which he broke the sound barrier in 1947 , is one of my favorite exhibits at the Smithsonian's Air and Space Museum (and I have thirty-five years of photos to prove it). I was saddened by the news, although not surprised, even if there was a part of my brain that thought he might just live forever. This morning, my news and social media world had many tributes to Gen. Yeager and even to John Lennon, who was assassinated on this date forty years ago. Squished in there was a small mention of Walter Hooper's passing.
Interestingly, I only heard Walter Hooper speak once, at the Wake Forest C.S. Lewis conference many years ago, the conference where I also met, for the first time, an enthusiastic and brilliant blogger whose posts I had been reading: John Granger. That was a formative conference for me, as the organizers kindly included my paper in their collection from the event, providing some great publicity for my
book on Lewis, Spenser, and Milton; meeting John Granger brought me both a friendship that I treasure and this lovely spot, where I have found great joy over the years; and Walter Hooper signed my copy of the first volume of Lewis's letters, which he had edited.  It sits on the shelf above me as I write, with numerous other volumes he edited or kept in print. The fact that he edited the conference collection, including my essay, was both humbling and exhilarating, as it meant that I had been edited by the man who edited Lewis. His talk at the conference was wonderful, yet I knew that it was probably the only time I might have the opportunity to hear him. I am so glad, for so many reasons, that I went to that conference.
It is strangely fitting that Hooper, a man who devoted his professional life to protecting and promoting the legacy of another, should pass so quietly. Thankfully, many beautiful tributes are being offered, celebrating Hooper's life and contributions. Surely, without him, many of Lewis's works would be out of print or unavailable to scholars or casual
readers. We owe much to him, an American who became a secretary for Lewis not long before the latter's death. As my eyes pass over my small Lewis collection and as I ponder the contribution  Walter Hooper has made to my own scholarship and to that of countless other scholars now and in the future, I am deeply grateful, and I expect that when he passed through that Door yesterday, traveling higher up and further in, there was someone familiar there waiting in a certain garden that somehow contains all that Place. Thank you, sir. Well done.