Happy Halloween! While we can't boast giant-sized Hagrid jack-o-lanterns or actual ghosts sailing through the Great Hall as we enjoy a goblet of pumpkin juice, we can highlight a few seasonal activities for Hogwarts fans. We can also celebrate the ways in which the Wizarding World has affected the celebration of Halloween. At my Muggle school's delightful Spooktacular celebration this past week, I counted numerous Harrys, Hermiones, and other Hogwarts students among our visitors. They were all delighted when I immediately recognized them and complimented them (although I did tease the Slytherins just a bit). A few years ago, my entire department had a Hogwarts theme. As I head out to my community's very popular annual family-friendly celebration tomorrow evening, I expect to see numerous characters and decorations that would not be there had J.K. Rowling never created a lonely boy wizard with a distinctive scar.
Thanks to the ridiculously successful film franchise, most of those costumes and other items are clearly drawing from the visual landscape created by Warner Brothers, but Harry's world is still a literary one, putting Rowling in the heady company of Mary Wollstonecraft Shelley, Bram Stoker, and Washington Irving–authors whose work has helped codify the way Halloween is celebrated. After all, Halloween would not be complete without Frankenstein's monster, Count Dracula, the Headless Horseman, and, in the past 20 years, Harry Potter.
Even decades after the first novel's publication, ready-made costumes based on the Hogwarts Saga are best sellers from retailers and articles offer tips for constructing one's own Potterverse ensemble rather than purchasing one. (My Professor Sprout ensemble is of my own creation, and it is much more book than film!)
For those who want more than a dress-up experience, there are plenty of unofficial and officially sanctioned opportunities to have a seasonal immersion in the Wizarding World, from themed parties, events, and escape rooms to ambience videos. One of my favorites of these takes the visitor to Hagrid's Hut.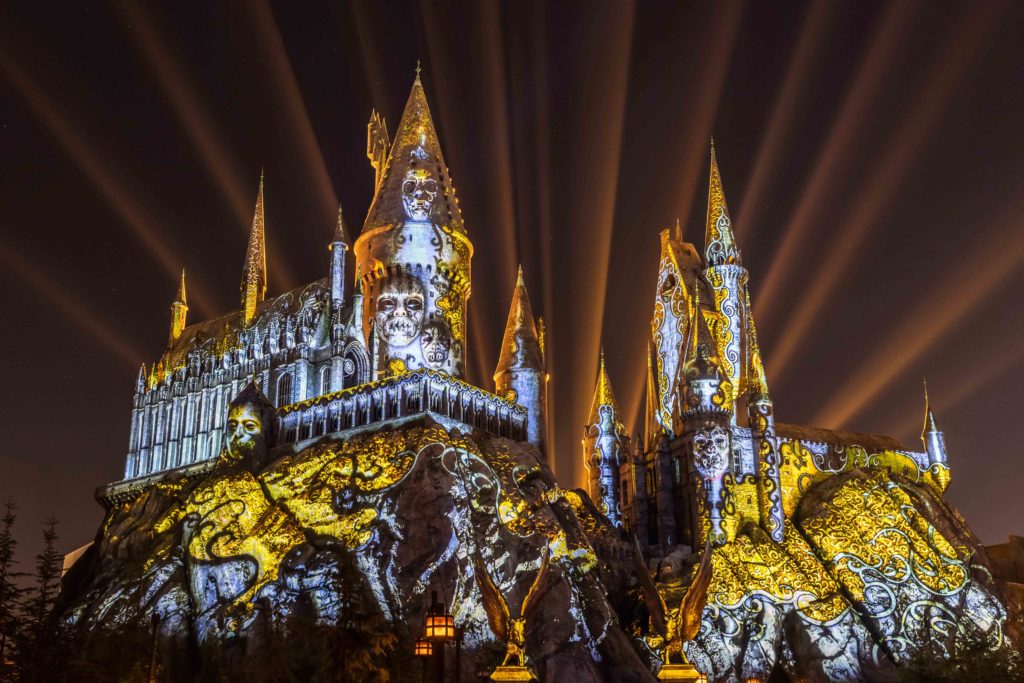 At Universal Studios Florida,  for those who really want to get into the Wizarding World, the Hogsmeade section in the Islands of, Adventure section features a
popular interactive experience with Death Eaters menacing guests who can drive them away with spells and wands (the ones purchased at the park, of course). There is also a fireworks and projection show on the park's version of Hogwarts Castle. It's a fun show, if not as spectacular as the Disney shows at the Magic Kingdom using the castle, projections, fireworks, and music (but really, not much can compete with those). Running from mid-September through tonight, the Dark Arts at Hogwarts Castle show, with both the Death Eaters and the castle show, is a popular attraction. The Death Eaters also participate in the park's popular Halloween Horror Nights, making them monsters in line with everyone from Dracula to Michael Myers. Resort TV1 gave a nice preview of both experiences a few weeks ago.
What are your favorite seasonal Potter opportunities? How do you see the Potter power at Halloween now and in the future?