Last month, we noted that pre-production had started for the film adaptation of Suzanne Collins's brilliant novel The Ballad of Songbirds and Snakes. A couple of weeks ago, the announcement was made regarding the casting of the actor set to play young Coriolanus Snow. Yesterday, the actress playing Lucy Gray Baird was confirmed. As usual, the Hollywood people have made decisions that book people might find perplexing, but let's take a look at these two actors, Tom Blyth and Rachel Zegler, to see how well they might fit into this complex and riveting story of Panem's tenth Hunger Games.
Hollywood Business as Usual
First of all, I do not always gripe about casting in film adaptations of books. I often love the casting of films adapted from books I treasure. I am quite happy with most of the original Lord of the Rings cast, for example. I also understand that actors do not have to look exactly like their characters' textual descriptions in order to be good fits. Daniel Radcliffe's eye color, of course, does not match Harry's, but he was a generally acceptable choice to for the role. Sometimes, I even get the casting I want. When I was reading The Martian, I remember thinking, "You know who they should get to play Martinez? Michael Pena!" Lo and behold, Pena is actually cast in that role in the film and is predictably perfect. Alan Rickman was the Snape in my head (and the heads of many other readers) even before he was cast in the first Harry Potter film. However, most of the time, the Hollywood mindset is one of dollar signs rather than one of literary artistry, resulting in predictable decisions.
Ideally, I would have liked to see the two leads in this film played by complete unknowns. I especially hoped that for the character of Lucy Gray Baird, as I know there is some young woman playing at a music venue or heritage festival this weekend, in eastern Kentucky or western North Carolina, who would suit that role to a T, but she doesn't have a big Hollywood agent or an impressive resume. She just has a gorgeous voice and the right look. Those are clearly not enough for the Hollywood machine, which already gave us "too-tall-too-mature-too-beautiful" Jennifer Lawrence in the original films. So, let's take a look at the tributes, er, actors, who will be playing the leads in the film. Unlike the folks doing press releases, I will follow the example of Effie Trinket: ladies first.
Rachel Zegler
On Monday, actress Rachel Zegler tweeted out a cryptic message, the first letters of which spelled out LUCY GRAY BAIRD, so it was not a big surprise when, on Tuesday, she was announced as having been cast in that role.  The casting itself is a little surprising. Zegler, like
Lawrence at the time of her casting in the first Hunger Games film, is a big media darling these days. She starred as Maria in the highly successful Steven Spielberg version of West Side Story that ran away with armloads of awards, and she'll be playing Snow White in (another) Disney version of that story, due out next year (I'm still partial to the adorably quirky Mirror, Mirror, so I am not sure why we needed another Snow White reboot).
Obviously, her casting as Snow White is a little unconventional, but that seems to be a theme with that film so far, and casting her as Lucy Gray is also somewhat surprising. Certainly, she can sing, which is a requirement, but, according to her Internet Movie Database page, one of her big musical claims to fame (in addition to her work on West Side Story) is covering a Lady Gaga song. That doesn't exactly fit the mold of Lucy Gray, singer of folk tunes and murder ballads. Zegler, from New Jersey, comes from a  theater school/performing arts background. Unfortunately, that background has probably not given her much experience singing "Down in the Valley."
Physically, at least Zegler is close to the right height (unlike Lawrence), and she can play an ingenue.  Lucy Gray could be said to be playing that role herself, creating the engaging image that attracts sponsors as surely as it does Snow, so that is good start. She is not the Lucy Gray Baird in my head, but perhaps she'll do. She is a Hollywood sweetheart: diverse, multi-talented, professionally trained, and raking in the big bucks starring in big films, so her casting may seem surprising from a literary perspective, but not from a show business one.
Tom Blyth
At first, I was quite excited about the casting of English actor Tom Blyth, primarily because he has just been playing Billy the Kid on a television series. Mr. Bonney, like Mr. Snow, was a sociopath who killed any number of people, but who also had a charm of his own. Plus, he was only 5'8, and Snow bemoans the fact that his wartime near-starvation has stunted his growth. However, it appears Mr. Blyth is actually six feet tall, so he's too tall for both of those roles, technically. One would think that Hollywood, after giving the charming 5'7 Tom Cruise years of highly lucrative work, would be comfortable with hiring people who were under six feet tall, but apparently not.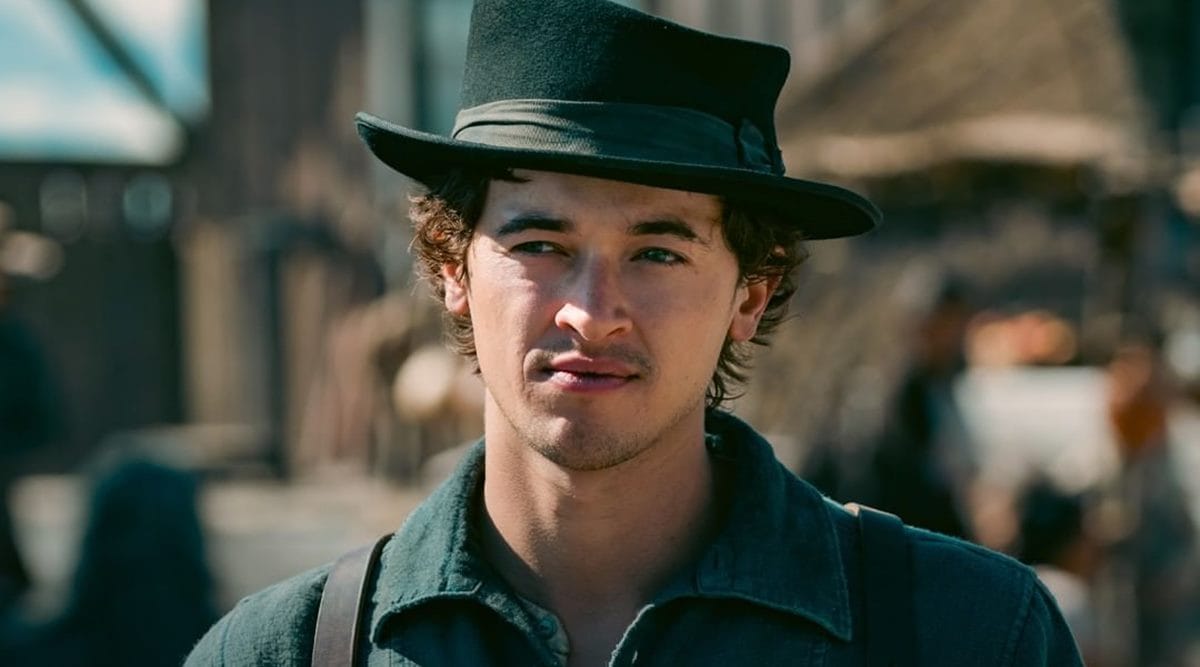 Other than that, he looks like a good fit for the role.
He has piecing eyes and the charisma he'll need. Of course, hair color is easily altered, so he may be made to fit the role fairly well. Time will tell. He could have real "authority."
More players?
Now that the central two roles have been filled, it remains to complete the cast. We'll need a compelling Sejanus Plinth (I'd like Josha Stradowski in that role, if he's not still busy with Wheel of Time. He does anguish well) and a couple dozen mentors and tributes of varying degrees of ability, guile, and longevity (I am still holding out hope for some unknowns here). I hope actual Appalachian musicians are used for the Covey. Unfortunately, all the Little Wharvey Gals from O Brother, Where Art Thou are far too old now.
For the horrible Dr. Gaul, a heavy lifter is needed, someone like Glenn Close, whom I think would be fantastic, and the other "adults" should likewise be "names" who can handle the nuances and the political dance that equates survival in the world Collins has created.
What are your thoughts, insights, and suggestions?
Standby for more comments from me, whether you want them or not!