In the interest of being as un-influenced as possible, I have collected my list of Strike novels, ranked from least
favorite to favorite, without looking at anyone else's list. I look forward to seeing how my fellow professors here at HogPro list the books, as I have been scrupulously careful to avoid seeing them yet. As with any list, there is always room for debate. While I always enjoy those countdown lists on the radio, usually around New Year's, I often find myself shouting at some faceless host who has the gall to rank one of my favorite songs outside the top ten on the list of "Greatest 80s Songs," so I understand the complexities of lists and personal opinions.
In ranking the adventures of our favorite Denmark Street detectives, I am considering my own tastes and interests, of course, as well as what seem to be more empirical standards. It is worth noting that I do not consider an error (like some we have noticed and discussed here over the years, unsurprising considering the amount of text covered by these books) to be an automatic reason to devalue a book or move it down the list. I find that all the novels are worthwhile, so even my Number 6 is not a bad book; I just like the others better, and there is something I like very much in each book, just as there are aspects I don't like as much. While my number 1 book has not changed since its publication and is likely to remain my favorite in perpetuity, I have found some of the others shifting position on my list, and they may continue to move about with time. I do look forward to discussing all of our lists to see where we differ and concur. Since  I have not read anyone else's lists, mine may be more or less detailed. So join me after the jump for my humble (and spoiler-laden)contribution to the Strike Ranking Extravaganza!
6. The Silkworm—While I do love many elements of the novel, particularly the character of Orlando, the gruesome aspects of the murder are some of the more difficult passages in all the the series. The plotting is as nicely done as any of the others in most aspects, but I do wonder about the retrieval of that submerged typewriter, which just seems like quite a stretch.  Rowling's fun jabs at the publishing world are highly entertaining, if sometimes a bit sad, and Robin's mad driving skills are a real highlight, so there is always something to enjoy. Just in case anyone wonders, I am not putting this one last because the murderer has my name…
5. Career of Evil—I've been thinking quite a bit about the victims in each of the novels. With this one, our haples
s murder victim is a child, and she suffers both death and mutilation, so, like Silkworm, this one triggers my gag reflex pretty seriously. Also, while I admire Strike's unraveling of the mystery, and who doesn't love a good wedding crash (literally), it does seem a bit of a stretch that Donnie manages to fool Strike with his new identity. The sacking of Robin, despite its narrative necessity, seems even more unpleasant to read than any other scenes of conflict with our characters. Despite my delight at the Blue Oyster Cult lyrics (I do own a "more cowbell" T-shirt), there are other volumes I like better, including my favorite, whose chapter epigraphs are even more dazzling than these.
4. The Cuckoo's Calling—Meeting our detectives for the first time is fun, even with "Galbraith" just getting started on the series and, in the process, perhaps not always getting everything right. I enjoy revisiting the first volume to see those early threads as they begin being woven into the fabric of the stories. I also enjoy coming back to this one to see how both the characters and the writing have developed and evolved over the course of the series. After all, when this one emerged, readers thought there was an actual Robert Galbraith, a real man who had his own biography and didn't have the reputation of Rowling to boost book sales.
3. Lethal White—Despite being from Kentucky, I am not an extremely horsey person, but the horse elements are
fascinating. I do like a a good art heist story, and the twists with the murder are interesting, even if they do seem a bit far-fetched. Since we knew Robin's marriage was doomed even before she said "I do" to Matthew while looking at Strike, it is a bit of relief to see her finally leave him. Even though we should acknowledge that Robin, as she herself knows, bears some of the blame for the crumbling of her short marriage, a marriage she knows she never really wanted, I can't imagine any readers actually pulling for Matthew. If this were a horse race, I'm sure we'd all have our bets placed on the same one-legged contender.
2. The Ink Black Heart—Our most recent installment features some painfully accurate observations about internet culture and fans' obsessive sense of ownership over the works they enjoy. Some readers may have been put off by the columns of parallel message transcripts between the various members of the Drek's Game community, members who are revealed to include a murderer, victims of various crimes, a couple of scary terrorists, a fabricated person, and at least one unwilling accomplice. However, I found the approach creative and interesting. The cemetery backdrop is also wonderful, and along with the great nineteenth-century poetry chapter headers, makes for a great Victorian feel that contrasts beautifully with the cyber-world of the killer, his victims, and the world of the cartoon. It's a nice reminder that humans, regardless of our tools, can be
brutal or beautiful in any time period. I always associate good mystery stories with Victorian motifs, thanks primarily to Mr. Holmes, so it is fun that Rowling has waited so long, with her typical slow-reveal patience and artistry, to take us to this most appropriate of settings. It's a good thing Rowling has trained us to be patient, as our patience continues to be tested with Strike's inability to see what is right in front of him, leading us to wait even longer for our detectives to solve the mystery of their relationship
1. Troubled Blood—My hands-down favorite holds that position in large part due to its structure on the scaffold of The Faerie Queene. Before its release, I was already looking forward to the use of one my favorites. While the chapter epigraphs Rowling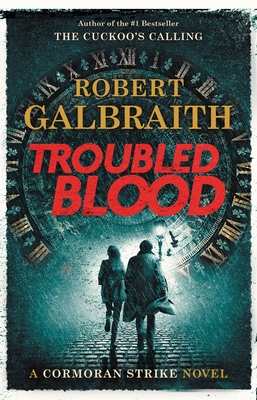 uses in each book are always matched up tidily to the chapters, Troubled Blood has the most elegant use of its scaffold story, matching Robin and Strike to the incomparable Britomart and her fascinatingly irritating Artegall. Of all the books, this is the one I revisit the most, constantly finding more and more threads woven from Spenser. Even with the graphic violence and epic body count in this one, it is the most fun as a narrative, and the calendar motif is gorgeous. What I like to call "the mushy pea" conversation is one of the best scenes in all the books, and, like Robin, readers find ourselves happily surprised at Strike's thoughtfulness, contrasting perfectly with their squabbles and knock-down-drag-out fight. The mystery in this one is both complex and nicely plotted. As I re-read, knowing the truth, I am always impressed by the clever killer and her clever creator. Although I couldn't believe it took our team so long to figure out what was going on with one of the side cases (SB? Really, didn't we all put that together much faster?), our complex mass murderer is a fascinating character who seems more than capable of her impressive accomplishment of fooling people and remaining undetected for decades.
So there is my list! My apologies if it does not match up well with everyone else's format (or if I overlap too much) as I really did resist peeking!
Now, let's line them all up and see how we compare! And let's see where we will put number 7!