On January 3, 1892, John Ronald Ruel Tolkien was born, and our world has been significantly enriched by his presence in it. In addition to The Hobbit and The Lord of the Rings, he translated Beowulf, created all of Middle Earth and its many cultures, places, and languages.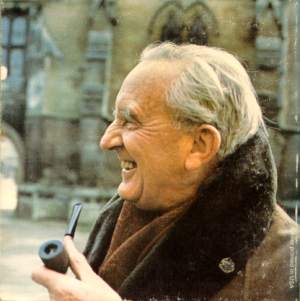 and helped found a little group called The Inklings.  Professor Tolkien and the Inklings,  particularly C.S. Lewis, helped lay the foundation of the mythopoetic worldview that is so central to all we do here and to the books we love to read and discuss. Thus, as I heard someone suggest this morning, we should all lift our classes this evening and declare a toast, "To the Professor!" If you prefer, you may wish to honor him by reading some of his beautiful words, or even by enjoying some of the many creative interpretations of them. I can recommend one I've been enjoying lately: Ambient Works Rivendell Ambience video (very pleasant in the background on a
snowy day). There are also videos for the Misty Mountains and other aspects of Middle Earth to put one in a fit state of mind to celebrate the day. Or, one could simply shoot off some fireworks or make a dramatic disappearance and go on an adventure.
Happy One Hundred and Thirtieth Birthday, Professor Tolkien, and thank you for letting us into your world!