When I first started using The Hunger Games in my college English 111 courses, it was an obscure little book, and I was the only one in any of my classes who had read it before the first day. But times have changed over the past
decade. I still use the book in my classes, mainly because I have not found anything else that works so well. In that time, movies have been made(with some of my students as extras), popularity has swelled, and my students who don't pay attention to my constant harping on the importance of the number three in the trilogy (they are confused by four films), keep saying they want a "fourth" book. Instead of spoiling the beautiful symmetry of the original trilogy, the master Gamemaker herself brings us a prequel, The Ballad of Songbirds and Snakes, which is both its own special sort of creature and a perfect companion to the original trilogy.
If you haven't yet read Suzanne Collins's just-released prequel to The Hunger Games trilogy, fear not, spoilers won't crop up until after the break, but, if you have read the novel already, or don't mind the spoilers, join me for a quick round-up of first thoughts, using the three major elements of the title, Snakes, Songbirds, and Ballads, but in reverse order (why? There are many reasons, actually, but I may fall back on the old excuse that I am an ornery mountain woman with excessive book learning). There will be many more posts to come, but we'll start the dance here.
Snakes? Why did it Have to Be Snakes?
Indiana Jones may not think much of snakes (with good reason), but they are a powerful symbol that Collins used in the original trilogy and employs beautifully in this prequel. Like the Star Wars films, these books should be enjoyed not within the chronological order of their world, but in the order that they were released (I am quite the stickler for this sort of thing, as my heated arguments about the appalling re-ordering of the Narnia books will attest).  Thus, the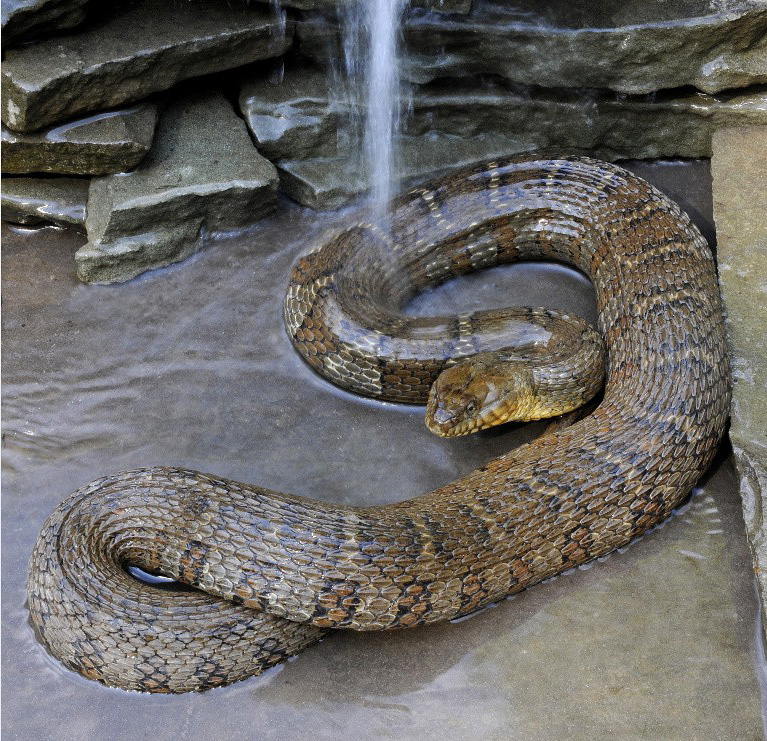 chilling echoes Collins so carefully creates will have their desired effect, and none so much as that wily serpent. Like those Star Wars prequels, this novel invites us into the early life of a character we have known as an adult villain, and while Darth Vader has a much more redemptive arc than Coriolanus Snow, they are both characters whose youthful stories prove both fascinating and portentous.
President Snow, as we know him in the Hunger Games trilogy, has always been presented to us through the lens of Katniss Everdeen, the trilogy's narrator and Snow's nemesis. When she first encounters Snow up close at the end of The Hunger Games, Katniss specifically describes his eyes as being "as unforgiving as a snake's." The snake imagery continues into the first chapter of Catching Fire, as Katniss is startled by the appearance of Snow and his "snakelike eyes" in her house. That image continues to be used for him, whether describing his chilly stare or his propensity for poison, to which Finnick Odair credits his meteoric rise and to power and lengthy stay at the top.  In The Ballad of Songbirds and Snakes, the snake images start quickly, but interestingly, not with Snow at first. His other prominent trilogy symbol, the rose, jumps out in front in the first chapter, as eighteen-year-old Coriolanus Snow, hopeful of restoring his family fortunes by mentoring a winning Tribute in the 10th Hunger Games, is paired with the female Tribute from District 12. He not thrilled by the assignment until the Reaping broadcast shows that Tribute, Lucy Gray Baird (yes, I know. Perhaps Mr. Wordsworth and I can each claim her). Before she mounts the stage and gives a rousing musical introduction, Lucy Gray's first act in the book is to drop a live snake down the dress of her rival, the Mayor's daughter. Snakes continue to figure prominently in the story: bizarrely colored mutations, whose keen senses of smell cause them to spare Snow and attack his classmate because only his scent is on an assignment they supposedly wrote together (a plagiarism detection tool that really works!); those same snakes used as punishment and weapons in the arena; and Snow's own powerful and misunderstood encounter with a serpent that seals his transformation from ambitious youth to cold-hearted future dictator.
Collins effectively uses the snake symbolism to remind readers of what we know will become of fascinating young Coriolanus, but it also serves to allude to even deeper connections, reminding us, with Snow's roses, those prominent serpents, and apple appearances reminiscent of the 74th Games, of a certain wily reptile in a certain garden with certain forbidden fruit.
O, the Cuckoo, She's a Pretty Bird
From our earliest discussions here about The Hunger Games, we've noted the value of birds as practical and symbolic elements in the novels, and Collins delivers the feathery goods in this prequel as well. Literal birds are in
abundance, from the pathetic parrot of Caesar Flickerman's predecessor (and perhaps father?) to trees full of both jabberjays and their hybrid offspring, the mockingjays, who have yet to take on the central importance they will in Katniss Everdeen's story, but which disgust and annoy Snow from his first sight of them.
But the metaphorical birds are the real stars of the show. Lucy Gray is a singer, musician, and songwriter who creates and performs songs Hunger Games readers have heard before, as well as actual traditional songs and originals. She lives with her stage family, called the "Covey," a word that is generally applied to groups of birds, like quail, but which also has slang uses from the 18th and 19th centuries, primarily when used by the lower classes or criminal elements of society. "Covey" or "'Cove" can be used like "fellow" or "dude" (It is the term with which the Artful Dodger first addresses Oliver Twist), but, according to the 1811 Dictionary of the Vulgar Tongue, a "covey" can also refer to "a collection of whores." All of these meanings are wrapped up in Lucy Gray's band/family, who dress in bright colors that often include feathers, and who all sing and play, like songbirds. In addition, they represent a lower echelon of society, regarded as lower-class, even in District 12, and the possibility that Lucy Gray might sell more than her songs is one that rankles at a jealous Coriolanus.
Embracing her songbird status, Lucy Gray sings frequently throughout the novel, even using her lyrics to convey covert messages, but she is not the only singing voice we hear. One of the journal questions I give my students asks them to ponder the sound of the Capitol anthem, which Katniss mentions often but never describes or transcribes. In this novel, we may still have to guess at the music (at least until the inevitable film adaptation), but the lyrics are right here, and the song is performed by no less surprising a songbird than Snow himself, who has learned it from his uber-patriotic Grandmother, the family matriarch, and thus is called upon to share at funerals and other State events.
Although he is charmed by songbird Lucy Gray at the novel's outset, Snow's discovery, late in the novel, that perhaps he doesn't actually like music at all, is a brilliant twist that lines up neatly with the uses of music in the original trilogy and makes us wonder now, more than ever, what odd thoughts might be going on in Snow's bitter mind as he plays his mind games with Katniss, a girl whose Cinna-designed clothes echo the lurid colors of the Covey, who may even be a descendant of one of the band members, whose singing must put him in mind of Lucy Gray (especially when she sings to dying Rue), and whose emblem, the Mockingay, is the songbird he most loathes even before it spells doom for his empire.
"Happy Stories Mostly Ain't True"
At its heart, this prequel is exactly what is purports to be, a ballad. In a technical sense, a ballad is simply a narrative song, a song that tells a clear story, with distinct characters. Unfortunately, the term is sometimes misapplied to any slow pop song, regardless of structure. A pop song can be a ballad ("A Boy Named Sue," "Living on a Prayer,"  "Ode to Billy Joe," etc.), but ballads also come in types: popular/folk, broadside, and literary.
The popular, or folk, ballad is the oldest type, and it usually revolves around stock characters, like Fair Margaret, the False Knight in the Road, and the House Carpenter. Its themes are generally love and death, and it is usually serious, although there are a few humorous ballads, like "The Farmer's Curs'd Wife." These ancient songs often have a range of variant versions. "Barbry Allen," whose protagonist gives her name to a member of the Covey, probably holds the record, clocking in at around 158 documented versions.
The Broadside Ballad is based on real events, re-told in the sensational format of a catchy tune. Very often, these events involve a murder, so often that broadsides are sometimes also called murder ballads. More often that not, the murder is of a young woman; "Little Omie Wise," "The Banks of the Ohio," and "Tom Dooley," all follow that theme, although the actual, historical events are greatly altered by artistic license. Broadside composers frequently took just enough of an actual story to get credibility, and then created a completely fictional narrative. Such is the case of "The
Ballad of Frankie Silver," which is written as if from the point of view of Frances (Frankie) Stewart Silver just before she was hanged, right up the road from me, in 1833 for killing her husband with an ax (and cutting up the body, which was not found all at once. Charlie Silver famously has three graves).  Frankie Silver wrote no such thing. The best-researched account of the story is The Ballad of Frankie Silver, by the incomparable Sharyn McCrumb, who gives the doomed Frankie, whose crime was almost certainly committed to save herself and her child from a drunken abuser, one of my favorite lines in all literature: "Happy stories mostly ain't true."
The literary ballad is an artistic creation, and it can be a poem, like those Lucy poems of Wordsworth's or Keats's "La Belle Dame sans Merci," or a song, like those pop songs. It can imitate the broadside or folk ballad, but it has an author and is a work of the imagination. In The Ballad of Songbirds and Snakes, all three types of ballads make appearances, from actual historical songs that are folk ballads ("Barbry Allen" and "Tam Lin" are just two of the songs whose title characters provide names for Covey members) to the literary comic ballad of "Clementine." Of course, all the songs that Collins herself created for this novel or the original trilogy are literary ballads, as she wrote them, but, within the context of the books, particularly this one, they have specific roles. Songs like "Down in the Valley," which was likely composed in the early 20th century have, in the novel's distant future, morphed into folk ballads. Since I have spent the last ten years claiming that this was the "Valley Song" that Peeta tells Katniss he remembers her singing on the first day of school, winning his heart,  I feel very vindicated in my claim after The Ballad of Songbirds and Snakes.  We also see the composition of literary ballads that function as broadsides, as Lucy Gray crafts her own story in "The Ballad of Lucy Gray," and as she is revealed to be the creator of the haunting "Hanging Tree."
Even more than the pieces of actual ballads that are woven throughout the novel, its ballad theme is clearly revealed in its plot elements that are pure ballad stock. Just a few of the pieces that are straight from the standard ballad prop-house:
Snow's roses are not just his symbol; they appear in countless ballads, enforcing those themes of love and death. Two of my favorite uses are in two of my favorite ballads: the aforementioned "Barbry Allen" (a rose grows from the grave of broken-hearted Sweet William and twines with the brier that grew from the grave of his cold-hearted lover Barbara) and "Tam Lin" (breaking a magical rose summons the long-lost Tam Lin, who has been spirited off by the Fey).
Snow. It isn't just the man's name, but it is a popular symbol in ballads. Horses, ladies' hands, and dead people are not just pale; they are "snow white," "white as snow," or "snowy white." Coriolanus keeps telling himself that "Snow lands on top." It lands in a lot of ballads, too.
The false-hearted lover. This standard ballad element is a crucial one that is essential to the plot of the prequel. Whether people are falling in love, out of love, or dying for want of love, love, like death, is a ballad standby.
Ballads love a good hanging, whether it's poor Frankie Silver or Tom Dooley(incidentally, Tom Dula, real name, was really hanged, but not in a lonesome valley from a white oak tree!). Three people are hanged in The Ballad of Songbirds and Snakes, because three is the magic number.
Snow, either directly or indirectly, murders three people in the novel (one of them is one of the hanging victims, of course). Murder, actual, fictional, or fictionalized, is quintessential ballad fodder. His methods, bludgeoning, shooting, and getting someone unjustly hanged, all turn up in classic ballads.
Hidden crimes. While many ballads feature the idea of "murder will out," with the killer plagued by ghosts, the devil, or his own guilty conscience, these sordid song characters often try to cover their crimes. A surprising number of ballads feature unwary young women murdered by their lovers, often to conceal an illicit relationship or unwanted pregnancy. When the relationship of Snow and Lucy Gray takes its dark but expected turn for the worse, those Panem children of the distant future are playing out motifs as old as the hills of District 12, Appalachia. Interestingly, when Snow attempts to erase his crimes by sinking the bag of evidence in a lake all trilogy readers have seen before, the imagery is reminiscent of that in a number of ballads in which a lover's body or incriminating evidence is sunk in a river or lake. (I am partial to "The Banks of the Ohio," which uses this image, and which was playing on the radio when my husband picked me up on one of our first dates decades ago. I often say that was when I knew he was the one for me).
Not a happy story. We know, of course, going into this story, that Coriolanus, for all his charm, will become a monstrous tyrant; we know from the moment we meet her that sweet cousin Tigris will become maimed by body modification, trodden down by life, and so embittered toward her dear "Coryo" that she will aid his assassins; we know that Haymitch is the only District 12 Victor left alive by the time of the 74th Games. So we know, this will not be a happy story. Ballads rarely are.
Encore?
Collins has not yet revealed if there will be additional prequels or other Panem novels. While she sticks to most of her triad-structure tricks in this prequel, she also deviates from it at times, perhaps indicating that this novel will be a stand-alone (which it can do just fine) rather than the start of another trilogy.  Whether or not this will be her last foray to the fascinating and horrible world of the Capitol and its Districts, this prequel, like an old song, will demand repeat readings, revealing more each time.