Apparently, since the groundhog did behold his shadow, six more weeks of winter are on their way. Quite honestly, the groundhogs where I live could see the shadow of Elvis and we'd still be lucky
to
get off with only six more weeks of ice melt, mud, bitter cold, and static electricity that could easily torch a Zeppelin. However, in the spirit of things, since today is Groundhog Day, references will abound to the Bill Murray film about maximum déjà vu. It is also Thursday, which has become the day to post pictures of the past. In honor of those two  events colliding, I thought it would be fun to re-visit some past posts that I really enjoyed writing and which, since they were some time ago, some of our newer Hogwarts Professor readers might have missed. So, turn that alarm clock back a few years, Mr. Murray, and let's relive a few past posts that may ignite new conversations!
A Trio of Hunger Games Winners
As I lo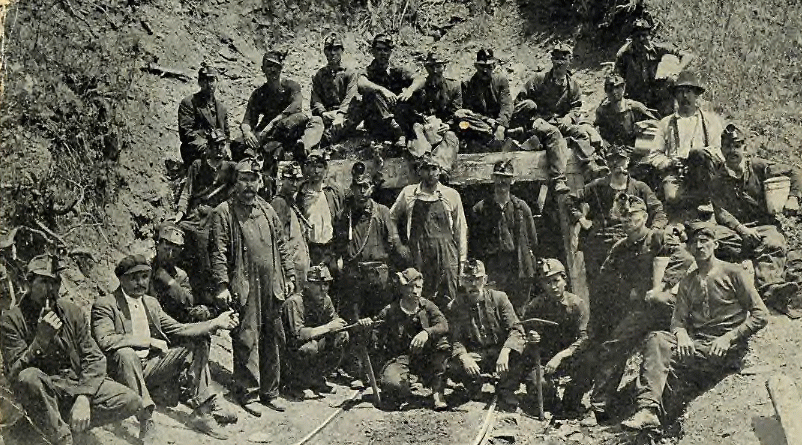 oked back through some of my older posts, it became very clear how often I have written about The Hunger Games, even before I signed on as an officia
l Hogwarts Professor Staff Member, nearly seven years ago. In that time, I have covered a wide swath of topics and themes, but here are three of my favorites:
1. EBH: Don't go down in the Hole – Coal Mining Life in District 12 and in Present-Day Appalachia–I was still guest posting for this one, but I really loved being able to draw the connections between the fictional Seam and the real coal-country from whence much of my family hails.
2. Professor Sprout
Goes to District 12 and the Arena: Some 'Hunger Games' Plant and Berry Thoughts–Long before I began working on my history program about medicinal plants in early frontier Appalachia, and definitely before I started dressing up as Professor Sprout, I had a great time looking at the fantastic use of plants in The Hunger Games!
3. A Curious Cat: Mockingjay's Tigris As More Than Just Another Freak in the Capitol Circus–As I continue to teach the novel, I am often reminded of the
importance of the literal cat, Buttercup, the artificial cat, Tigris, and the metaphorical cat, Katniss.
Thoughts from a Darkened Theater…or Library
One of my favorite parts of being here at HogPro is getting to post my thoughts about films, whether they are adapting a text we discuss or touching on themes that appear in lit
erature. As I was looking back, I saw a vast number of posts I've written in my position as a Faculty Film Fancier. These are some of my favorites:
1. "Do You Want to Read My Blog Post?" Of Course, You Do! Seven Keys to Why Disney's 'Frozen' is (still) Red Hot–This movie continues to wield power that puts it on par with many long-treasured fairy tales, and I look forward to seeing how it lasts. My prediction? It won't melt away for a very long time, if ever.
2. Only an Allusion?: Star Trek Into Darkness and the Death of Literary Literacy–Star Trek has long reflected a complex and rich use of literary elements, but, in the re
-boots, that is sometimes missing. I enjoyed working through that issue on the heels of contributing to Star Trek and History.
4. The Man in Black: Alan Rickman Interview and Oscar Prospects–As we ponder the Oscar shunning inflicted on yet another Wizarding film, I enjoyed looking back at this post, when we still had the fabulous Mr. Rickman among us.
Not so Plain Jane
Several years ago, we had a great time doing a "book group," and one of our books was one of my favorites: Jane Eyre. Here are a few of the several posts I contributed during a wonderful conversation with many of our brilliant readers.
1. Jane Eyre 1: "
Once Upon a Time in Thornfield…" Reading Bronte's 'Jane Eyre' as a Fairy Tale–Fairy tales are our bread and butter, or perhaps, our milk and cookies? Or maybe tea and crumpets?
2. Jane Eyre 2: Genre and Gender Revulsion and Consequent Critical Disdain for Jane Eyre–When the critics seem a bit harsh, it is nice to put things in perspective!
3. Jane Eyre 5: Crossing the Threshold with Jane—The Novel's Liminal Elements–In teaching both literature and mythology, I find that the concept of the liminal is one that comes up with shocking frequency, because it is a critical part of who we are and what we read. It also shows up here pretty regularly.
Worlds Collide
And, just because I love it when stories collide, this was one of my favorite days ever (though I think I ruined a trip for an 8th-grade class whom I roundly lectured for their bad behavior in the Visitors' Center. They probably still remember the scary stranger who lectured them about decorum, while wearing a dandelion in her hair….) I am often at Civil War battlefields, our own tragic arenas, and Gettysburg is one of the most tragic (though not the one that haunts me most. That's Sharpsburg, or Antietam to you boys in blue).
Hogwarts Professor Visits Site of 1863 Hunger Games
Thank you for indulging me in a fun trip to the past, and I look forward to our many conversations in the future!