One of the great benefits of the sales numbers of the Strike novels, including Troubled Blood, is that there are some nice resources available for both casual fans and serious readers. And one of the wonderful aspects of the "old days" of Harry Potter excitement was the delightful Rowling website where we discovered her inspiration sketches and outtakes by watering virtual plants or making calls on a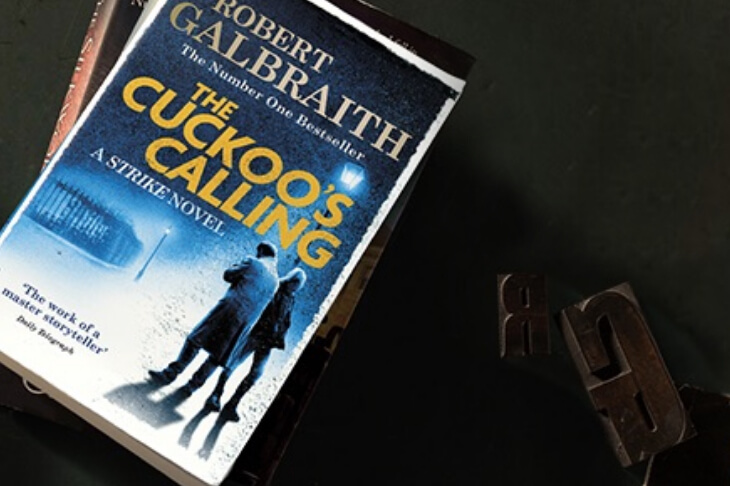 virtual flip phone and where forthcoming books titles were revealed in Christmas decorations. While the "grown-up" Robert Galbraith website does not have quite as many (literal) bells and whistles (really, I tried my best to make those R and G type pieces spin or turn into something else), it does have some nice little tidbits that are both fun and useful for our serious reading adventures. If you have not already, you can sign up for the newsletter here as well. Join me after the jump for a review of some of the site features as well as a few wishes for forthcoming offerings at the online home of our Denmark heroes and their pseudonym-wielding creator.
Of course, like any book site, the Galbraith page has the usual summaries of each of the novels. Since Rowling also produces the screen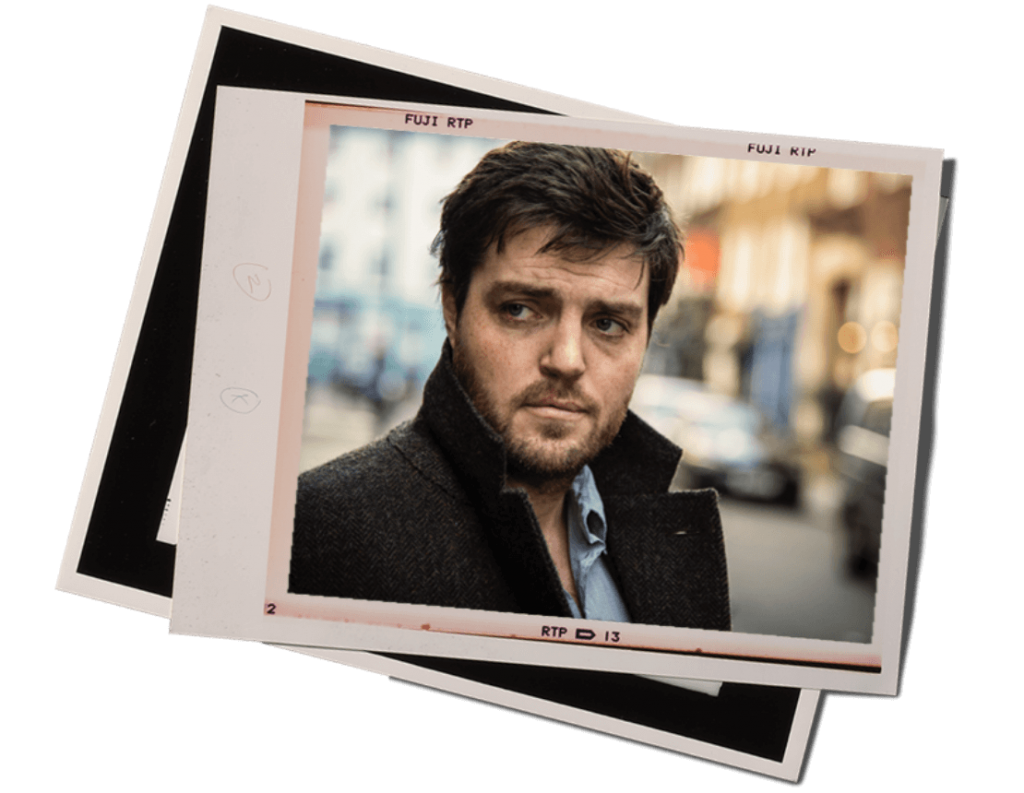 adaptations, there is plenty of non-book material, but I like how the website keeps the two distinct. On the page that houses introductions to each of the Strike stories, one can choose to explore each story as book or TV series version. The book versions include extracts to read, and the TV ones have film clips.  Interestingly, while the two incarnations are kept very distinct in this section, over on the character section, where one can "meet" the major players, the illustrations are all of the actors from the show. This is fun, since Rowling herself has admitted that both Tom Burke and Holliday Grainger are better looking than the people in her head (Interestingly, while I totally agree with that sentiment, I find TV Matthew not as attractive as the Matthew in my head. That actor is a perfectly nice-looking man, but I picture someone
more like the Mr. Popular Joe College-types I have known).
The About page is particularly interesting, as here "Galbraith" answers questions about inspiration, characters, setting, and other elements of the novels' creation. She does not conceal her true identity, referring to comparisons with the Potter novels, but she doesn't flaunt it, either. The page is decorated with great images that connect both to the TV series (scripts) and to the books (maps and notes). I am particularly curious about the notebooks on display, as they remind me of those old notebooks from the Harry Potter days.  They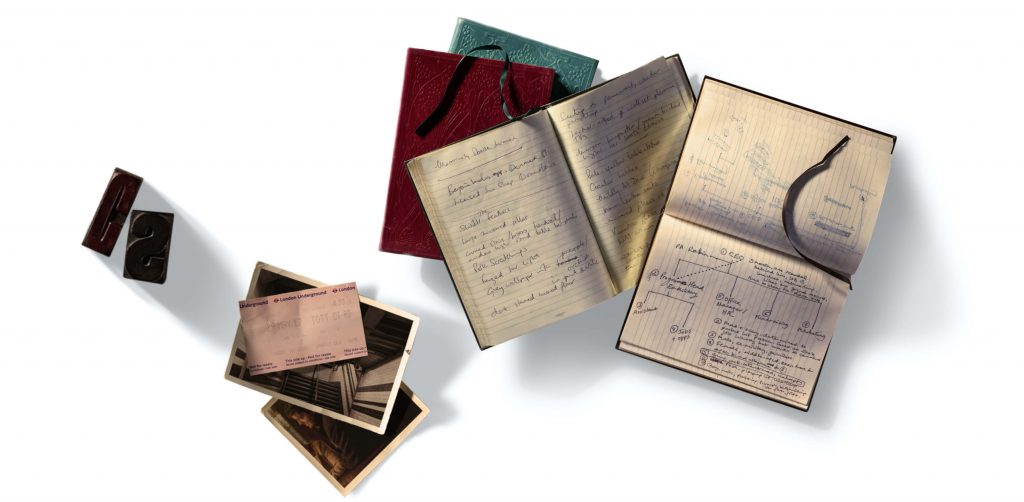 might be meant to represent Strike's ever-present little notebooks, but these are Rowling's notes, describing nascent character development and impressions of possible settings. I wonder if these are, in fact, her actual notes from the early process of her creation of Strike and Robin (the one chart on display certainly seems to be part of a very early idea), perhaps her notes from visiting potential sites to use in the novels, since she invents very few locations. If so, I now want to see inside those other notebooks in the hopes that there are more treasures there!
The questions "Galbraith" answers may be actual ones that come from readers (certainly there are several we've all had), but she may also have simply answered the questions that she expected her readers might have. One of my favorites is about the number of Strike books. Although we have noticed how neatly the novels so far have paired with their comparably numbered Harry Potter installments, Rowling replies to a question on that subject with a rebuttal, claiming there will be many more than seven Strike novels. Yippee!
The "More" section is mostly art related, for both films and books, offering covers, posters, and wallpapers along with trailers for the behind-the-scenes segments on the series. There is also nice material for read-alongs, including those great sorts of questions that people in book groups seem to like, but my students in English classes seem to resist.
The "Discover" section is the most rich area for exploration. Here we have the News collection. Interestingly, the oldest stories are from 2015, when the films first were released. There were several news items that year, only one each in 2016 and 2017, a few in 2018,
none in 2019, and a pile this year. My favorite is the most recent, a wonderful interview with Mark Billingham (anyone who describes the way Strike talks as "industrial language" gets points from me) in which Rowling shares some great insights and reads from Troubled Blood.
This section also includes the Features. While some of these are more TV-connected, others are book pieces that are really interesting. The Locations piece is pretty much dedicated to the sites used for filming the series (I'm pretty sure I've seen several of these sites on Sherlock), but many of these are the real places from the books, too, so we can get a nice visual image of spots like the Tottenham.
In the Discover section, you can also challenge yourself with quizzes on each of the books. These are great, and they are pretty challenging. I must brag on the fact that I did score a quick 100% on the Troubled Blood one, which is a two-parter, but I must also admit that it was much more manageable than the really nit-picky(and much longer) one over at the Strike Fans website!
Of course, there are features we might like to see added as the Galbraith site (hopefully) develops. In addition to more of those great teases about future books, I'd like maps of the novels' locations. Since Rowling does primarily use real sites, and since she works so hard to replicate them in print (she mentions in that great interview how she came to know Clerkenwell like the back of her hand), those of us without that insight would love maps to help us along. On a similar note, I have noticed how many of the homes and flats are laid out differently from those with which I am familiar in the US, so I would love floor plans of places like the Athorns' flat and Broom House. That may be asking too much, as the movie people may want to leave some of those options open.
I'd also like recipes. I remember when American kids were reading Harry Potter and suddenly figuring out that crisps were potato chips and chips were French fries, but they also wondered about treacle tart and steak and kidney pie (this does go both ways. I am in an online group in which one British member just asked, very sincerely, for everyone's meatloaf recipes, because it was a completely alien dish). While I don't want any recipes that include expired chicken, dates, or boxed chocolates, I was fascinated by the mushy peas and curious about the ingredients in that wonderful casserole Max makes for Strike, Robin, and those ingrate kids.
Perhaps such little gems will be in forthcoming issues of the newsletter, to which you can subscribe on the site.
So, I hope you'll take a look around the site if you have not, or have not lately. Take the quiz, and tell us how you did, and, most importantly, tell us what you hope "Galbraith" will include in the future!