We've only a few days to go before the arrival of the eagerly awaited fifth Cormoran Strike installment! My local independent booksellers have my copy safely in stock, ready to hand over to me on September 15, like the professionals they are (and like people who still miss the thrill of Harry Potter book release parties in the old days). In the meantime, we're having a grand time with the tantalizing almost-10-chapter preview of Troubled Blood, which has confirmed many of our suspicions and also left us wondering what the other 63 chapters hold. From Joni Mitchell to Marilyn Manson, the range of musicians who appear to be inspiring this adventure is an impressive one, and the literary scope promises to be just as rich. If you have not kept up with Bea Groves's beautiful insights on the Literature Game of the Strike series, catch up before Tuesday! As we've been hoping since the title drop, it looks like Edmund Spenser's glorious magnum opus The Faerie Queene is a major pillar of the complex literary scaffolding we've come to expect from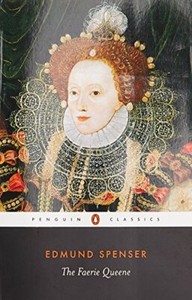 Rowling/Galbraith.  While we wait for Tuesday, you may or may not be in the mood to read the entire six books and a bit of The Faerie Queene's planned twelve books that Spenser was able to complete before his untimely  death in 1611(C.S. Lewis reportedly said that he hoped he would discover, upon reaching heaven, that Spenser was there waiting with the remaining six books). Whether or not you are a Spenser fan, here are six and a bit hopeful possibilities for the way Spenser may be woven throughout Troubled Blood, based on what we have so far!
Current events and the Royal Family—The strike novels feature a wide array of references to Britain's Royal family and to current (at the time of the novel)events pertinent to the realm, whether it's the marriage of Prince William and Kate Midddleton in 2011 or the London Olympics of 2012 (still one of my favorite opening ceremonies, thanks to Rowling herself and Sir Kenneth Branagh). This is a motif Edmund Spenser incorporated as well, including real British events, people, and places as allegorical elements, from the hottest religious controversies of the sixteenth century to the (mostly) beloved Faerie Queene herself, Elizabeth I. The story of Strike and Robin, living in the kingdom of Elizabeth II, will doubtless feature elements of current events in Britain, as we we've already seen with Dave Polworth's passionate stance on Cornish identity, so it's a safe bet that Rowling will continue using current events, but she may do so differently, now that she overtly working with the Spenser model. As a modern author, it seems likely she'll make her references more subtly, or just as part of the scenery, rather than laying it on quite as thickly as the religious and national loyalties for which Spenser is well known (and which sometimes make him less than appealing to some readers. While Lewis loved The Faerie Queene, his pal Tolkien was not so keen, perhaps due to the unfavorable images of Catholics littering Faerieland).
Seasons—Rowling has always had an eye for timing, as we've long noticed with the school year structures of the Hogwarts saga, and the Strike novels are strongly shaped by the seasons in which they are set, from the snowy street where Lula Landry lies smashed, to the bleak midwinter of The Silkworm and the sweltering summer of Lethal White.   Spenser, too, leans heavily on environmental elements like the seasons and weather, using cues like those that open up the first two bits of the novel that we have been given. Part 1, set in August, is introduced by Spenser's line about "Jolly Summer, while Part 2 brings us "Autumn all in yellow" clad, as it takes place in the fall.  Will we make the full cycle through the year? If we only hit each season once, a few sections will need to double up on seasons, but a year seems a logical guess, not only because of Spenser, who was also the author of The Shepheardes Calendar, first published in 1579, and known for his seasonal motifs: Strike is under contract for a year on the investigation into the disappearance of Margot Bamborough, and with the emphasis on her divorce timeline and her 29th birthday, time is much on the mind of Robin. It makes sense that we will come all the way around to the end of her two-year separation from Matthew, perhaps freeing her at last from him. There is an emphasis on the "twelve months" on page 37 that have elapsed since the beginning of the countdown to the end of the marriage, indicating that perhaps the novel will take us through the next twelve, like a clock, like a calendar, like Spenser.
Virtues—When Spenser laid out his epic poem, his plan was for each book to focus on a specific knight whose person and adventures are allegorical representations of specific virtues, all virtues valued in the Christian knight. It might seem surprising that a poem that is littered with violent battles, alluring seductresses, and grotesque monsters is a Christian allegory, but not as surprising as the fact that Strike, with his sewer lingo, one-night stands, and impressive alcohol consumption, is actually a noble, admirable person. He is as drawn to seeking justice, to doing his work right, and doing it well, as lordly Sir Artegall, the knight of Justice. It will be fun to see if other virtuous knights appear in Troubled Blood (Guyon, knight of Temperance, does not represent that kind of temperance, so pub visits and Doom Bar are still on even if he makes an appearance).
Pretty Maids all in a Row–Britomart, Florimell, and Una—One other virtue-themed knight we've already seen in our preview is the female knight, Britomart. From the first clues that The Faerie Queene was going to matter in Troubled Blood, many of us have hoped Robin's role as a Britomart figure would be confirmed, and so far, we are not disappointed. As chapter 3 opens, and we switch point of view from Strike to Robin, the opening epigram is the scene switcher Spenser uses to connect back to Britomart, the knight of Chastity whose adventures are the focus of the third book of The Faerie Queene. In addition to the nice connection of the third book of the epic poem and the third chapter of the novel, Robin is wearing a beanie that hides her distinctive hair, and she could be mistaken for a boy or man, just as Britomart is often disguised as a male knight by hiding her own remarkable hair under her knight's helm. In addition to Robin's and Britomart's shared focus on justice and noble causes, they are both paired with a seeker of justice. Britomart's intended husband, whom she seeks through a number of harrowing adventures, is Artegall, knight of Justice. Ilsa, Nick, and everyone else who seems deadset on getting Strike and Robin together should be reassured by the fact that chapter 1, which begins with Strike (and yes, Dave Polworth, but it's Strike's chapter), is led off by a verse about Artegall. If Strike and Robin are the novel's versions of Artegall and Britomart, their eventual union is assured, but not without hardships along the way.
Hardships for female characters are the name of the game in The Faerie Queene, including Florimell (whose image was one of our early clues that Spenser was a factor for Troubled Blood) and Una. Florimell ("flower-honey") primarily has two jobs in the epic poem: looking beautiful and fleeing. She is also replaced by a false Florimell who becomes a crucial plot point. Perhaps Troubled Blood will bring us a Florimell figure in the form of Margot Bambourough, who was a Bunny Girl (which sounds less tawdry than Playboy Bunny, somehow), and thus beautiful, and then, she disappears or flees. Will she be replaced by a duplicate? Or is Cynthia a false Florimell figure?
One of the other central FQ females has already been hinted at in the form of Margot's friend whose contact with young Anna raised the ire of her father and stepmother: Una. In the poem, Una represents unity and is the lady of Redcrosse, knight of Holiness, so it is interesting that Margot, whom the somewhat sketchy psychic has told Anna is
lying "a holy place," was supposed to be meeting her friend Oonagh the day she vanished. The spelling of "Una" as "Oonagh" might be a distraction, or Rowling might have guessed that many mystery-loving readers would be more likely to connect Una with Una Stubbs, the wonderful British actress who played Mrs. Hudson on BBC's Sherlock, rather than with the heroine of FQ Book I, or even the daughter of Nathaniel Hawthorne, named Una in honor of Spenser. Spenser's Una is a fascinating figure, a contrast to the wily, alluring, and deadly Duessa (who already has Charlotte to play her role). Like Florimell, she is also replaced at one point by a false version of herself, leading Redcrosse to "think that gentle lady so light" and to believe she is unfaithful. Will Margot's friend mirror Redcrosse's lady in more than name? Or will Robin encompass her character as well as Britomart's? Tuesday will tell.
Deception, disguise, confused identity—The mistaken identities of Britomart, Florimell, and Una are just some of the cases of confusion with identification that run throughout The Faerie Queene. Intentional deceptions, like that crafted by the magician Archimago, as well as honest mistakes, such as assuming potential allies are actually enemies, are part of nearly every canto of Spenser's poem. We have already seen both Strike and Robin use disguise and deception in surveillance and investigations, and Robin's roommate is an actor, so it's a safe bet that these themes will continue, and perhaps, like Spenser, Rowling will use themes not just as plot devices but also as reminders about truth and illusion. The chilling biography of the suspected killer of Margot certainly portends that direction.
Children of strange origin, or born of violence and malice—Characters with odd origin stories are regular cast members in Spenser's poem. Redcrosse himself, tilled up from the earth as if he were a potato, is just one of these (and since Redcrosse is really St. George, it's fun that DI Layborn's first name is George). While his foundling tale is merely novel, other creatures and people are born in ways that are monstrous or weird. Then the first (almost) ten chapters of Troubled Blood give us Strike telling his sister what he really thinks about her two horrible children (unfavorably compared to the one he likes), awful children making a nuisance in the Palacio, and Charlotte calling Strike after the first birthday of her twins, whose C-section birth she sees only as a nightmare for her, despite their "miraculous" survival. Worst of all is the origin story of serial killer Dennis Creed, product of his teen mother's sexual abuse by her stepfather, born brutally on the kitchen floor and repeatedly threatened with death by his father. After his deeds have been laid bare, even his mother thinks it would have been better for him to have been killed as an infant. Strange origins are certainly not new to the Strike series, but perhaps the Spenser undertones will bring even more of those to light or will take the sneak peeks we have already seen and grow them into powerful themes (except for maybe those awful tourist children. We've all been somewhere with those kids and their ineffectual parents, so we don't need to see them any more to get the point).
? Six Books and a bit—What may be the most interesting Spenser piece may be the structure of Troubled Blood. Although Spenser had planned for twelve books, he only finished six of them, and then there is the partial bit, the two Mutabilitie Cantos. Troubled Blood has seven sections, but Part Seven includes only two chapters, like the uncompleted Book VII of The Faerie Queene. While Rowling has already shown she's going to scatter her Spenser references across the novel, rather than setting them up in chronological order (thank goodness! Britomart and Artegall don't show up for ages in the poem!), this chapter organization does indicate that she is very consciously structuring the novel along Spensarian lines, and I can't help but think this means that the person we ought to be watching is step-mommy Cynthia, who so quickly replaced Anna's mother and helped repress any efforts to find the truth about Margot, but who also "stood by" Anna. Cynthia, the goddess of the moon, is opposed by Mutabilitie, a Titaness who desires to usurp Jove's rule. Mutabilitie, or change, is thus introduced in the two existing Cantos of Book VII, a book planned to celebrate the virtue of Constancy, the antithesis of changeability. Whatever happens in those last two chapters, I suspect, may be really interesting, whether or not it has to do with the moon/Cynthia.
As we will soon see, there are always surprises in a Strike story, but I know I am not the only one looking forward to seeing what Rowling/Galbraith is going to have for us in those Spenser-shaped parcels that we can't unwrap for a few more days! Share your hopes and predictions in the comments below!