There is no need to use Veritaserum to discover the truth that the Wizarding World parks are big business at
Orlando's Universal Studios parks. The Diagon Alley area, located in the original Universal Studios Park, features Muggle versions of many of the shops in Harry's world, along with the ever-popular Escape from Gringotts ride. The Hogwarts Express will take guests (as long as they have tickets that will get them into both parks) to the Hogsmeade section of the Universal Islands of Adventure theme park. Here guests can join Harry on the Forbidden Adventure ride, or on Flight of the Hippogriff, or even on the newly opened Hagrid's Motorbike Adventure. Tonight, Universal will debut a new attraction at Hogwarts Castle (located in the Islands of Adventure if you are having trouble keeping up). Join us after the jump to talk about the new Dark Arts show and what it means, aside from the obvious—more money for Universal.
The new show, entitled Dark Art at Hogwarts, will replace the usual evening light show in Islands of Adventure, The Nighttime Lights at Hogwarts Castle , and will run through November 15. Dark Arts will feature the evil creatures of the Wizarding World, from Dementors to Inferi, to Lord Voldemort himself, taking over castle in a stunning light show with a background soundtrack by legendary composer John Williams. The show will begin around 8 and will repeat every 20 minutes.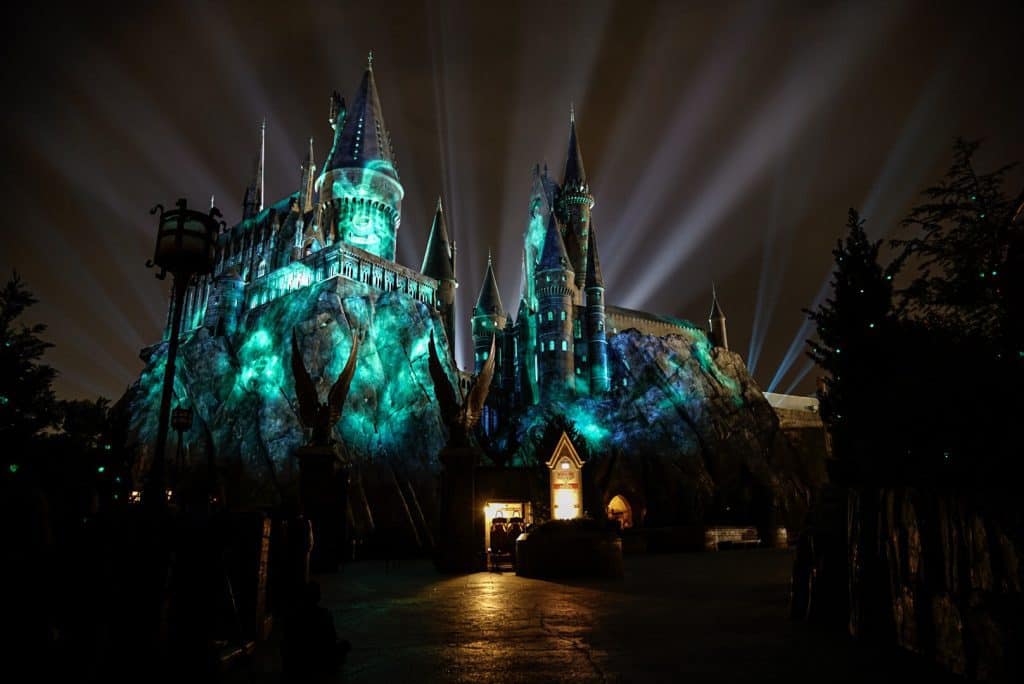 So why is Universal launching this new attraction? Clearly Harry Potter is a cash cow, drawing visitors to both parks an enticing them to buy the higher-priced ticket that will admit them to both parks. Universal has to keep opening new attractions to keep previous visitors returning and to draw in new guests to spend their tourism dollars here. All theme parks have to do this, especially in the theme-park Mecca, Orlando.  Disney Parks are always launching something new, whether it's re-booting the EPCOT Norway ride as a Frozen attraction (I love Frozen, but I liked the Norway ride the way it was, especially the trolls), or debuting a whole new Star Wars section in the Studios Park, with eager visitors waiting in record-breaking lines. Universal has to do the same, bringing in new shows and rides while phasing out old ones (I miss the old Back to the Future ride, not just because I love those movies, but also because a full scale version of Doc Brown's amazing steam-powered train time-machine was parked out front, and Doc's initials are the same ass mine before I married—ELB).
A show like this is also a great investment, as it is totally automated, the lights, sounds, and special effects happening as a result of clever programming. It doesn't require a big cast or costumes, and no extra space is needed, as it is
projected right on the walls of the castle. The show repeats every 20 minutes, so guests have many chances to see it each night that it is offered (a few nights are dark, probably because those are lower attendance days). It will likely be a fall offering each year, even though "fall" is a loose term in Orlando, where it is still 90 degrees with a heat index that resembles Fiendfyre. These shows are also amazing, because the light effects give the illusion of movement and of transformations to the physical space. I particularly love Kennedy Space Center's Holiday's in Space, which projects onto the rockets in the Rocket Garden, creating some pretty intense illusions, including a Saturn V launch.
This sort of show is also part of the staple offerings at Disney, which has extraordinary fireworks, dancing fountains, and water shows for resort guests. Universal has had a light show on the castle already, but this is a new special event, just in time for Halloween. The Christmas version will start in November.
Why, we might ask, does this presentation celebrate the dark arts? The whole point of Hogwarts education is to teach students to defend themselves against the Dark Arts, so we can only imagine that this show will culminate with the dark forces begin defeated and good winning the day. Having a Dark Arts-themed show is just another way that Universal can feature some of the series's darker elements, both for those who are fascinated by those elements (there are a shocking number of people who have actually had Dark Marks tattooed onto themselves. I've often wondered why they want to identify not just as prejudiced monsters, but as loser prejudiced monsters who are defeated by love itself).
The Dark Arts must be defeated, of course, not just because that's how it works in in the books, and those who attend this show or visit these parks are often more familiar with the books than Rowling herself, but also because the spirit of Orlando family-friendly Halloween demands it. Of, there are big scares at Universal, of course. Halloween Horror Nights at the park are incredibly popular, but they are discouraged for visitors under 13 a
nd marketed as adults only. Kid-friendly spookiness is the order of the day or the Harry Potter attractions. Over at Disney, Mickey's Not So Scary Halloween event is ongoing now and will last until after the end of October. It's got just enough creepiness to be fun, but doesn't boast anything more disturbing than the Headless Horseman who pursued the hapless Ichabod Crane. It is sort of disturbing that he laughs, despite having no head, but most of the chills are definitely G-rated, from the famous Haunted Mansion Hitchhiking Ghosts to an attempted coup by some of the most iconic Disney villains. There are fun parades and shows, special treats, and free candy.  The Dark Arts show promises to be more like Mickey's event than like Horror Nights, though it might be more PG than G.
Although I won't be able to get down to see the Dark Arts show, perhaps some of you will, and you can share your thoughts and reviews with us! We'd love to know how the show is, and we'd love to hear that your patronus protected you from having your soul sucked out, even if nothing could save you from having your money sucked out of your wallet by the mighty forces of tourism.